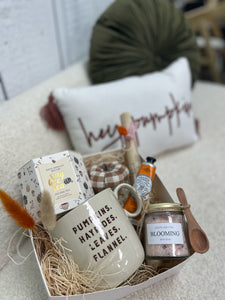 Show some love to your friend or loved ones, give the gift of the Fall Care Box! 
This Gift Box contains some of Flourish's Favorite Fall Things! We can customize your box with any gift in our store (pricing will vary), but if you're not sure what we have to offer, let us do the thinking for you! Pictured in this sample of our Fall Care Gift Box, Fall coffee mug, Notebook, Tiny bee tea, Hand Cream, Blooming Bath Salt, Incense and a mini pumpkin.
*For specific items, please call our store. We'd love to help you!